Cyber bullying, inappropriate content, privacy issues, hate speech, and so on… Internet can be a harsh place for anyone, let alone if you are a child. And at the same time, this magic place offers a treasury of information and endless possibilities for self-expression, participation, and learning for people of all ages.
This contrast in mind, a group of dedicated people from all over the world came together in Helsinki to discuss and work on how design could help develop safer and more supportive environments and experiences for children. The three day event, Talkoot: towards children's rights in design, (making) designing for children guide, was organised in Helsinki by Unicef and in cooperation with Elisa.
The goal of the event was to bring together the expertise of designers, psychologists, and children rights advocates to work together and publish a draft of a guide on how to embed children's rights into the heart of product development process. Cooperation with designers is a new approach for Unicef to continue their work on well-being of Children in a digital world.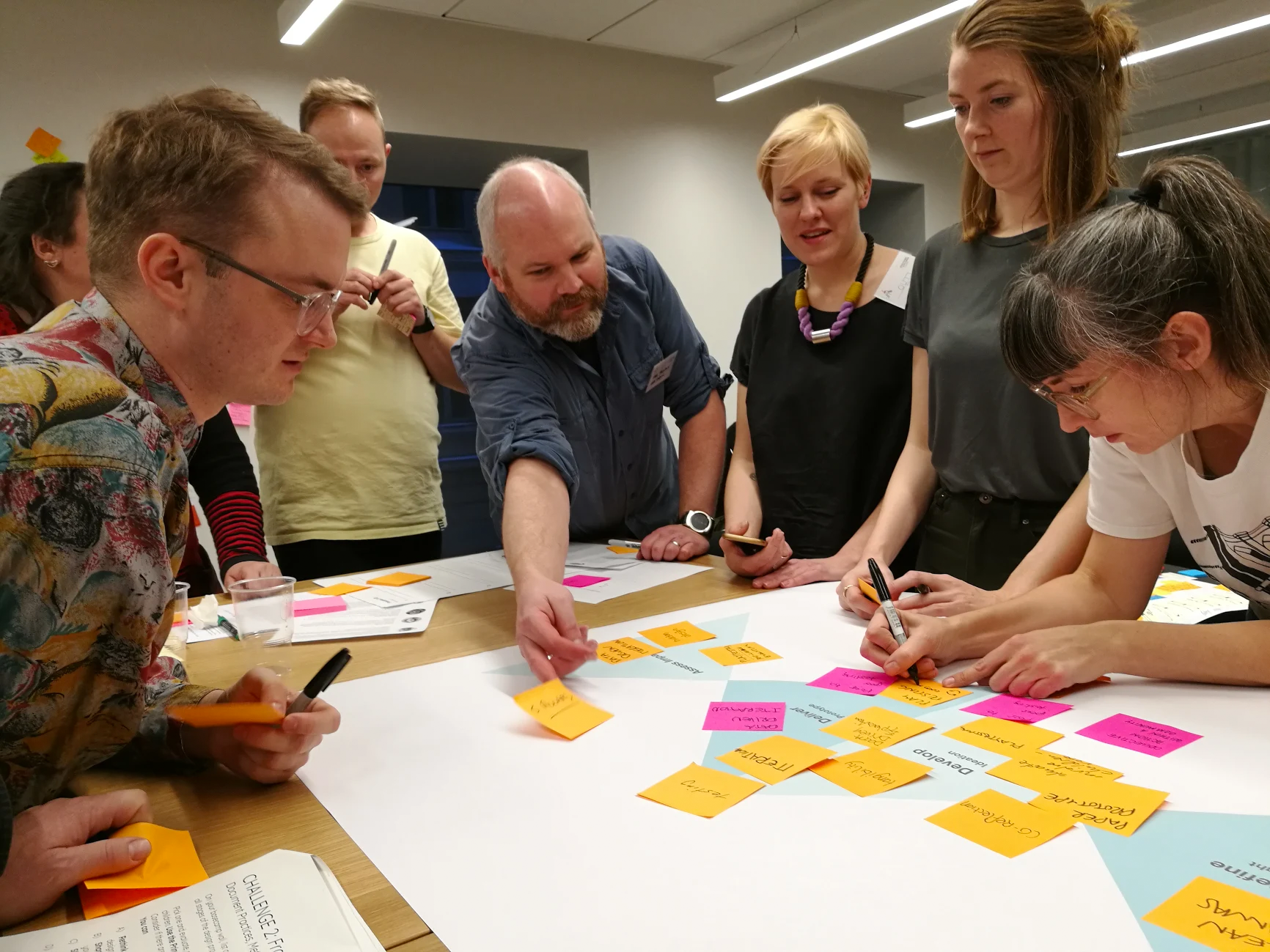 Incorporating children's rights into design process. (Photo: Noora Kumpulainen / Talkoot: towards children's rights in design, (making) designing for children guide.)
We have the power – and we should use it
The threats children and teenagers face in the internet has drawn attention and provoked discussion recently. Big companies like Google and Facebook have had to re-evaluate their policies and algorithms to eliminate inappropriate content. And as the big companies struggle with the content of their services, can the rest of us designers and developers say that we have paid enough attention to the children utilising our services? We have the power and responsibility to educate ourselves and change the ways we work to be more respectful and inclusive towards the adolescent users.
There are good deal of challenges to answer to achieve a safer digital environment for the child users. In principle, the internet and most of the platforms are not designed for children, but kids utilize them anyway. According to Unicef every third internet user is a child. This means there are no publicly open services that could overlook the possibility of children accessing it. Including kids in a development process of a service, and incorporating safety and child's rights into design could help to avoid at least some of the potential pitfalls. Digital illiteracy of both adolescent and adult users sets requirements for the clear and age appropriate communication and guidance.
In addition to the challenges there are plenty of opportunities in digital environments for children to learn and play. Good interaction, as neuroscientist Minna Huotilainen defined in her presentation, provides agency for kids, supports development of self-reflection, social interaction, and participation. Services designed considering the stage of development, individual needs, and safety of children can provide educative and empowering experiences supporting a child's development.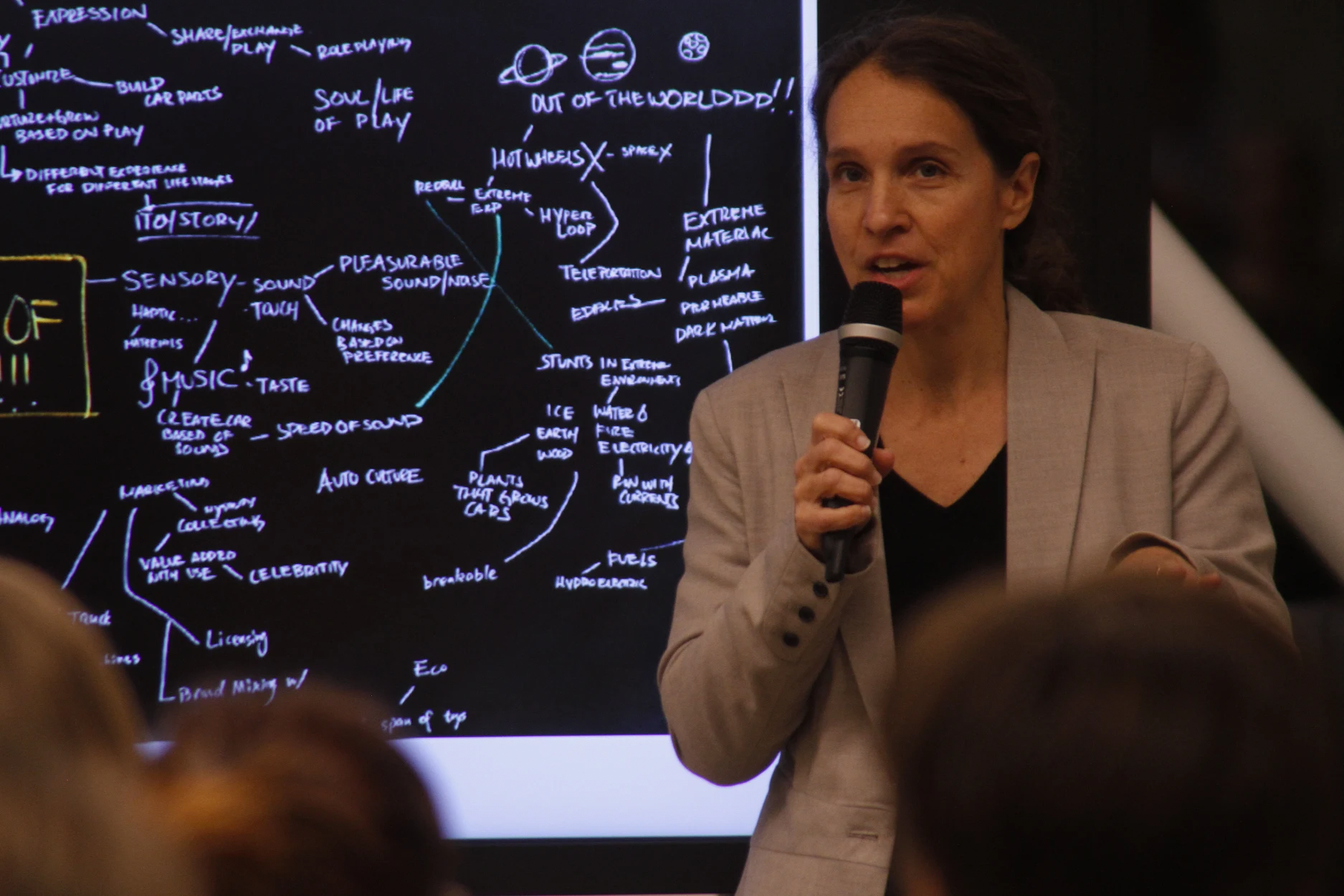 Professor Krystina Castella gave the audience insights on the future of play, design ethics and sustainability in design.
(Photo: Noora Kumpulainen / Talkoot: towards children's rights in design, (making) designing for children guide.)
Taking baby steps to the future
I think the event was timely and necessary. The first steps towards awareness and better practices in children's rights in design have been taken and I hope that the spirit and message of the event will evolve, spread, and eventually make a difference.
You can explore the first draft of the principles on the page Designing for children guide. Personally, I think the guide serves well as a discussion opener. Hopefully in the long run it can provide practical guidance. While waiting for that to happen, you can have a look at the Unicef tools for companies developed to help to evaluate services in terms of children's rights.


Written by Laura Uusitalo