A popular conversation, especially during Pride month, is the topic of being able to be yourself and be comfortable at your workplace. The benefits of inclusivity and diversity are now much more widely appreciated and the connection to the employee's well-being is better understood. This all has a positive impact upon diversity, equity and inclusion within companies (DEI).
At Siili we embrace the "Come as you are" principle and we constantly work to make this promise real. Inclusive culture is both an ongoing journey and learning adventure, and something we strive for in our pursuit of bettering ourselves. In our company, where knowledge holds a central position and we prioritize enabling individuals to pursue their passions without unnecessary concerns, fostering an inclusive environment and a supportive work community is of utmost importance.
Directly from the mouth of a person belonging to a minority:
As a non-minority, it's easy to say that "every person and everyone's differences are taken into account, no discrimination of any kind is accepted, and you can safely be yourself with us." However, I am interested to hear how you understand different minorities and how you ensure that the environment is safe for all of us?

Inclusive culture – why is it important and how do you do it?

Numerous studies have been conducted on why an inclusive culture is such an important goal for companies.
Firstly, when employees feel valued and accepted and possess a sense of belonging, their well-being is improved, and they are ultimately more committed to the company.
Secondly, when an environment in which employees can authentically express themselves and experience a sense of safety has been established, we can increase the focus on fostering diversity. This, in turn, directly correlates with improved customer service. By employing people from diverse backgrounds, we can effectively address the diverse needs of our customers and end users, resulting in enhanced products and solutions. Ultimately, when our workforce feels accepted and our teams embrace diversity, we cultivate a culture of innovation and risk-taking, leading to enhanced business outcomes.
As mentioned earlier, Diversity, Equity, and Inclusion (DEI) has gained significant traction in the business world, and it is now common for companies to publicly declare their diversity and inclusion objectives—which is undoubtedly a positive step. However, why do these declarations alone fall short of addressing the issue adequately?
Diversity goals are important, but if inclusion is not guaranteed, minorities are unlikely to feel that they belong in the community. Therefore, before setting goals, we must make sure that we truly understand the differences that already exist in the workplace and take these into account. Inclusion goals, on the other hand, must be very precise and concrete if we want to make them work. Thus, we should always strive for concrete actions that can be measured and latterly developed. However, how can we effectively determine the appropriate course of action and ensure that these initiatives actively cultivate an inclusive culture and foster psychological safety within the work community?
When we started implementing Siilis DEI's strategy, we had a most important question in mind: How can we understand all the different aspects of diversity and inclusion, as we do not cover them all ourselves?
We quickly realized that the key to implementing actions that support an inclusive culture is listening to different minority groups and perspectives. Only in this way can we achieve a truly inclusive environment.

Different angles to increase inclusivity – We stand with Pride -panel discussion
Listening to minorities and different viewpoints is key to developing inclusiveness. In addition, we need to take these differences into account when making an action plan to promote inclusion. In other words, we must understand that everyone has a different degree of knowledge around DEI.
To better understand inclusive culture, we organized We Stand With Pride! -panel discussion together with technology companies Gofore, Solita and Vincit. In the event we discussed what we can do as companies, leaders, and colleagues to promote and support an inclusive and LGBTQI+ friendly culture, particularly in the IT field. One of the most important outcomes of the discussion was that there must be a safe space for mistakes, and learning. If we judge or point out each other's mistakes, we cannot work together to promote inclusion.
That said, it is important for us at Siili to create an environment where we can learn together, feel a sense of fellowship, and ensure the come-as-you-are spirit is upheld.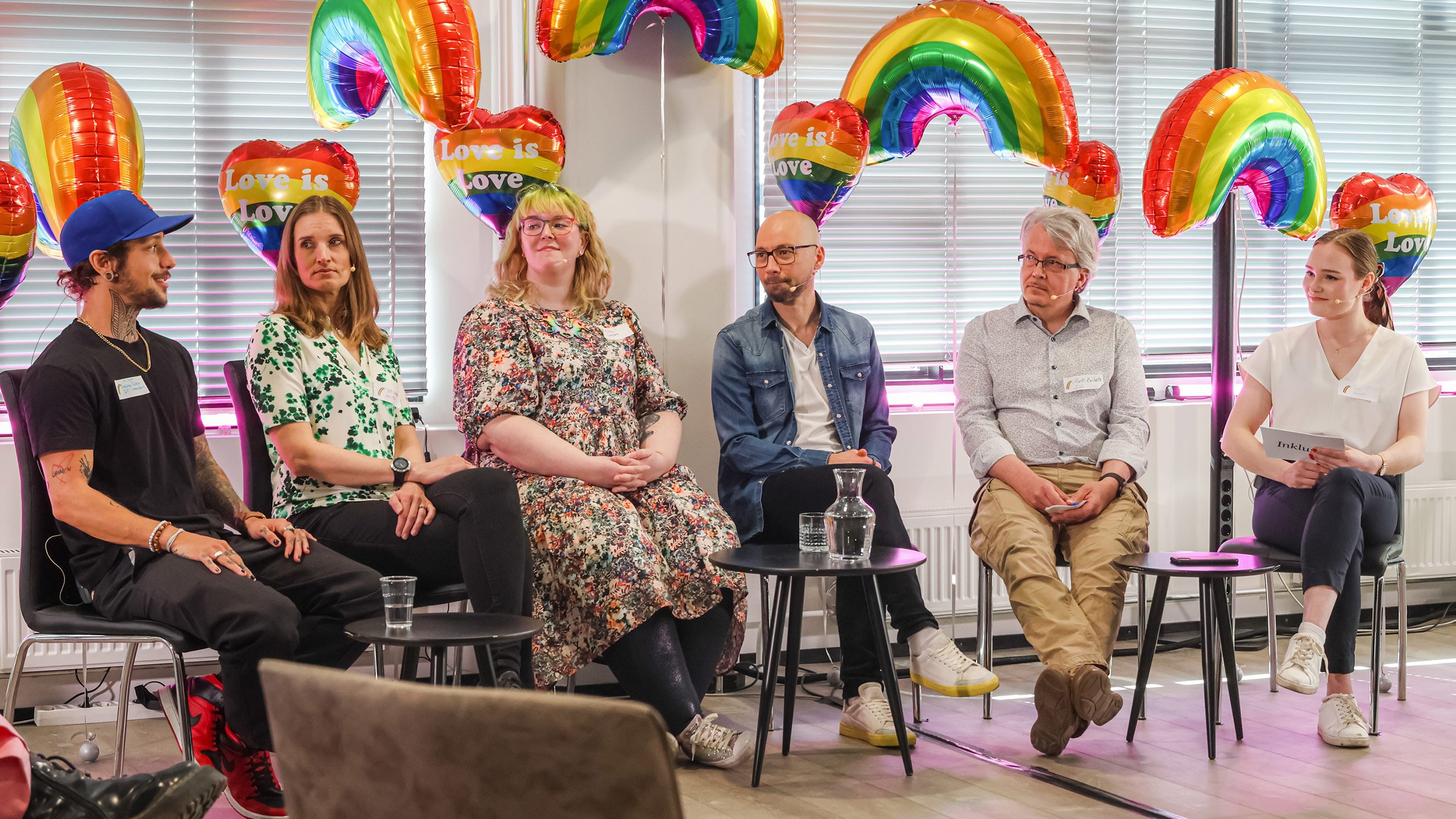 DEI strategy in Siili – what are we doing?
In spring 2023, we created our DEI strategy around our come as you are statement. While planning the strategy, we began to realize that in order to work in a diverse workplace with diverse teams, we must first focus on an inclusive culture. Goals should only be set after the realization of an inclusive culture has been established. With this in mind, this year we are focusing on learning and understanding how to maintain an inclusive culture at Siili, what we could do better, and most importantly, getting Siilis involved in the conversation.
In our DEI strategy, inclusive culture is measured and studied via five different themes:
Leadership
Development
Communication
Empowering environment
Work-life balance
To ensure an inclusive culture, we prioritize psychological safety, as it lays the foundation for a supportive environment. Our approach is backed by research from academics and industry experts, providing concrete insights for improvement. We've implemented an inclusion survey to understand our culture better and identify areas for development. Additionally, some employees have received training to serve as harassment contact persons, offering accessible support for addressing any inappropriate behavior in our work community.
In addition, this year we pay special attention to sharing awareness. In conjunction with this, we have updated our internal communication in accordance with the DEI calendar. In practice, this means that we communicate monthly about important days for minority groups and share background information on these days and events. The purpose is that members of different minorities feel that they belong to the community and so others better understand their culture/background.
Although our DEI work is progressing, we acknowledge that there is still work to be done. We have learned that DEI is not an attainable goal, it's an ongoing journey. However, we are proud to say that we take DEI topics seriously and that drives our culture and values.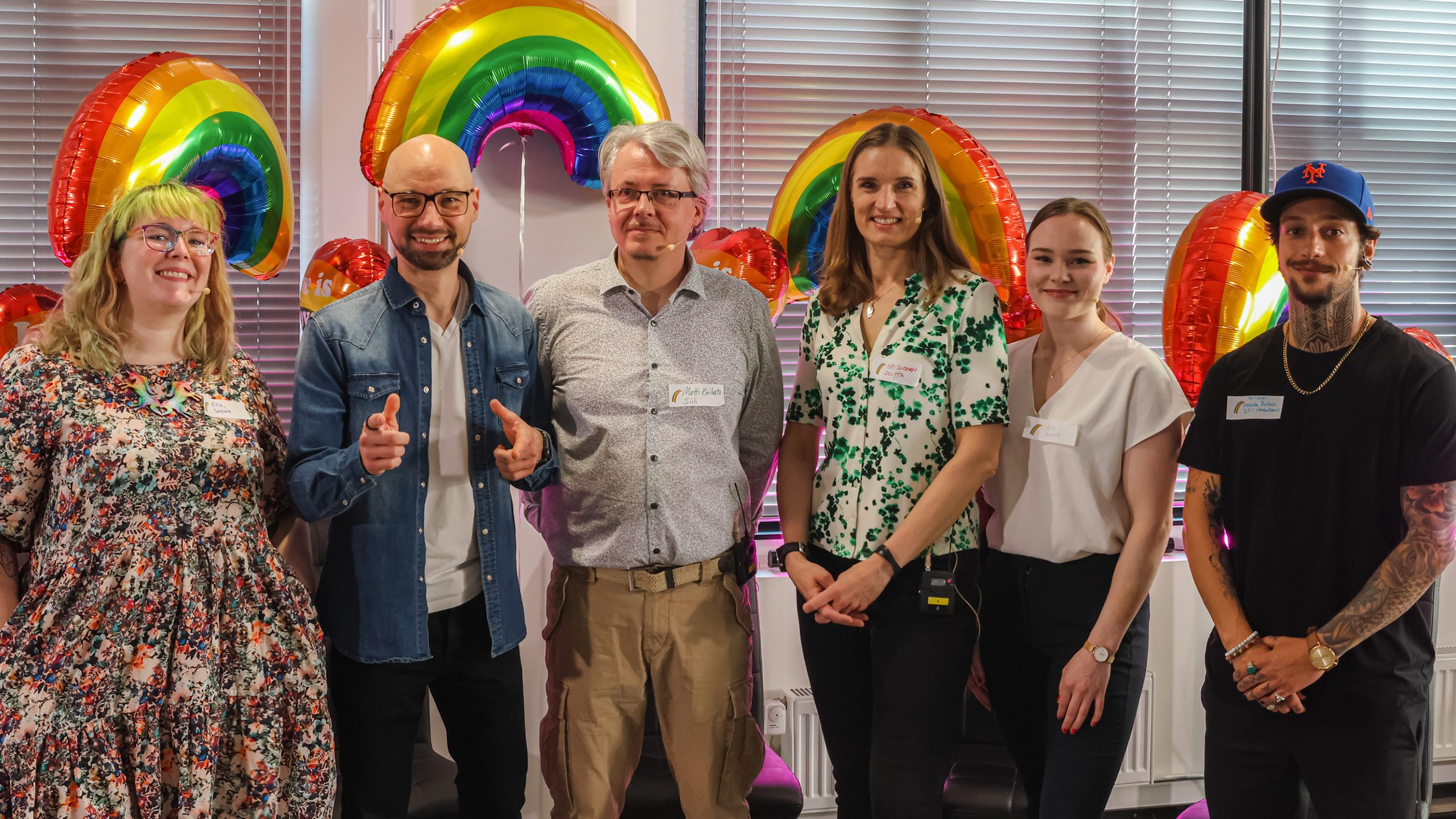 If the We Stand With Pride! event caught your attention, you can watch the recording of the event in here: https://enchant.fi/live/we-stand-with-pride
Also be sure to check out our Come as you are film.
Happy Pride Month!
Written by:
Miljaana Koskela, HR Specialist at Siili
Maria Lavemäki, Talent Partner at Siili


---
References
Saxena, A. (2014). Workforce Diversity: A Key to Improve Productivity
Cletus, H., Mahmood, N.A., Umar, A. & Ibrahim, A.D. (2018). Prospects and Challenges of Workplace Diversity in Modern Day Organizations: A Critical Review
Cole, B.C. (2020). Forbes: 8 Reasons Why Diversity And Inclusion Are Essential To Business Success