Not too long ago we had a mindboggling conversation with a seasoned consultant. The main discussion circled around one single question: "Is it possible for a company's core brand promise to address both parties – its customers and employees?" Everybody agreed that it would be an optimal case, although not an easy one. Often you don't promise the same exact thing to your customers as you do for your employees.
We were quite excited of this because when discovering Siili's current, still quite fresh brand promise we really put emphasis in finding this kind of a hybrid, two-directional promise. We participated a lot of our current customers and employees in the process striving to find something that could work seamlessly to both directions.
We ended up with a summarizing set of sentences saying:
'We help you find what's essential.
Then we build it. MAKE IT REAL'
Customer Point-of-view
From a customers' point of view, the sentences state that we bring together the best of both worlds, the strategic, innovation, and design skillset of a digital agency ('we help you find what's essential') and development capabilities of a technology powerhouse ('then we build it'). Combining these two essential superpowers helps our customers to MAKE IT REAL, in other words to offer functional digital services to their customers delivering efficiency, growth and competitive edge.
Employee Point-of-view
Again, from an employee's point of view, it is a bit of a different story, yet the wording remains the same. The context now is naturally one's career: 'We help you find what's essential' refers to a predominant situation in the world of IT development: At any given moment there are hundreds of directions to choose from. Which technologies should I focus on? Should I lead people? Should I develop my current core competence vertically or should I master new skills horizontally? Or both? How about my entrepreneurial ambitions? And that is just the beginning of the set of questions available 24/7. That's why we promise to help you to find out what's essential for you and your career next.
'Then we build it.' - From an employee's point of view this means opportunities to learn, to build the capabilities needed. The means are vast: Learning from your peers while working together on demanding yet rewarding projects, learning through courses or accomplishing certificates needed.
And through this discovery of essential and building capabilities needed, you can make your dream career REAL.
Diving Deeper into the Employee Promise – 6 Cs to Redeem It
The employee experience of Siili consists of tens of small, yet important fragments. To be able to identify, develop, and address all these small valuable pieces we have put together a tool called 6C. These six Cs serve as a platform to fulfill our promise of 'We help you find what's essential, then we build it' to our employees. They are known as Customer Cases, Care, Company, Career, Compensation and Culture.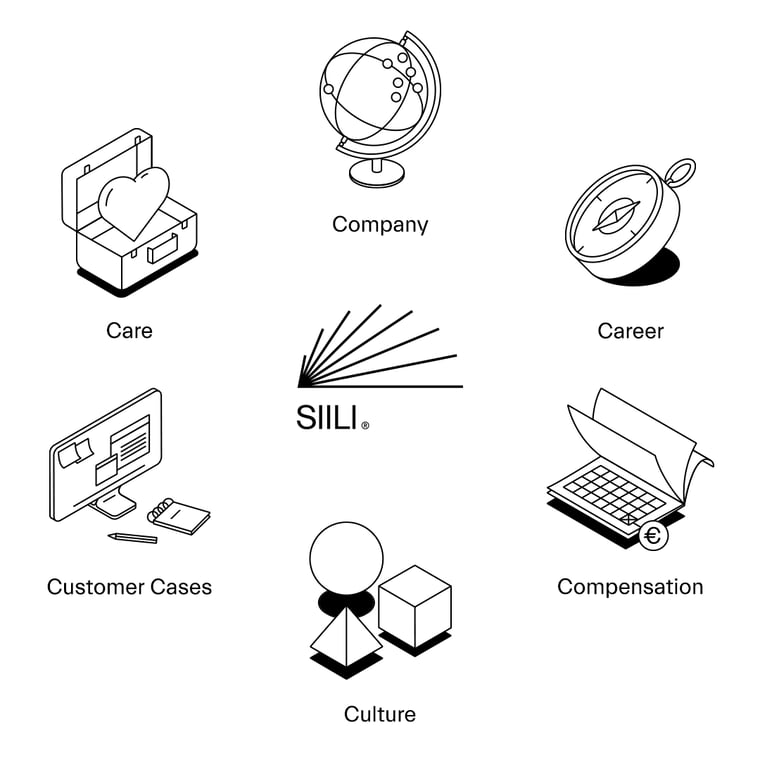 Company
Siili is a growing, profitable company, that is internationalizing fast. We are already located in 14 cities around Europe and US and many of our customers operate globally. We believe in as-low-as-possible hierarchy, and our selected strategy encourages cross-studio co-operation between cities and countries. We believe this is a good starting point to redeem the employee promise given.
Career
The core idea is that a person defines the career, not the other way around. Therefore, we have various professional paths for you to choose from. You can start your career in the field of IT through our acknowledged Mentor & Apprentice program, become hardcore professional in a tech of your selection, master a wide array of skills from design to back-end development, lead people in a team or even eventually be responsible of a business unit of your own. We know that your ambitions might change through your career, and we are able to react when they do.
Compensation
We believe that your compensation should be competitive and closely tied to the value you contribute around you. Your role, seniority, and skillset play a central role while determining your total compensation. Besides the fixed sum, there is a part tied to the value you deliver. Our people are also very interested in owning the company, which we enable and subsidize through our SiiliX investment program.
Culture
When we ask our people what defines the cultural core of Siili, four main findings always stand out of the studies:
1. You get to be you. We have no mold to set you in so there is zero energy wasted in changing yourself to something you are not.
2. People are kind to each other. You get help and there is always someone interested in your well-being.
3. We are responsible. Towards each other, our customers, society around us and the world.
4. We do rather than plan. Our people highly value actions towards targets, in other words the craft of digital development. That is the reason you can see MAKE IT REAL all around our communications.
Customer Cases
We all arrive to work to… well, work. So, a major part of the employee experience of Siili consists of customer projects. We strive to find impactful and meaningful cases from interesting domestic and international brands for you to work with. We also play a major role digitalizing the society around us. The domain we develop is digital experience and the means are design in various forms, software engineering, automation, artificial intelligence, and data operations just to mention a few.
Care
We agree that every hard-working professional is more than entitled to their perks and high-quality care. Therefore we offer to our employees best-in-class medical care, coaching, clubs around all sorts of activities, child care, etc. And the one thing we are most proud of is the Siili Forest, an initiative where we plant 43 saplings (i.e. your own little forest!) each year to compensate your annual carbon footprint.
We help you find what's essential, then we build it,
Antti Kiukas, Taru Salo & 800+ Siilis