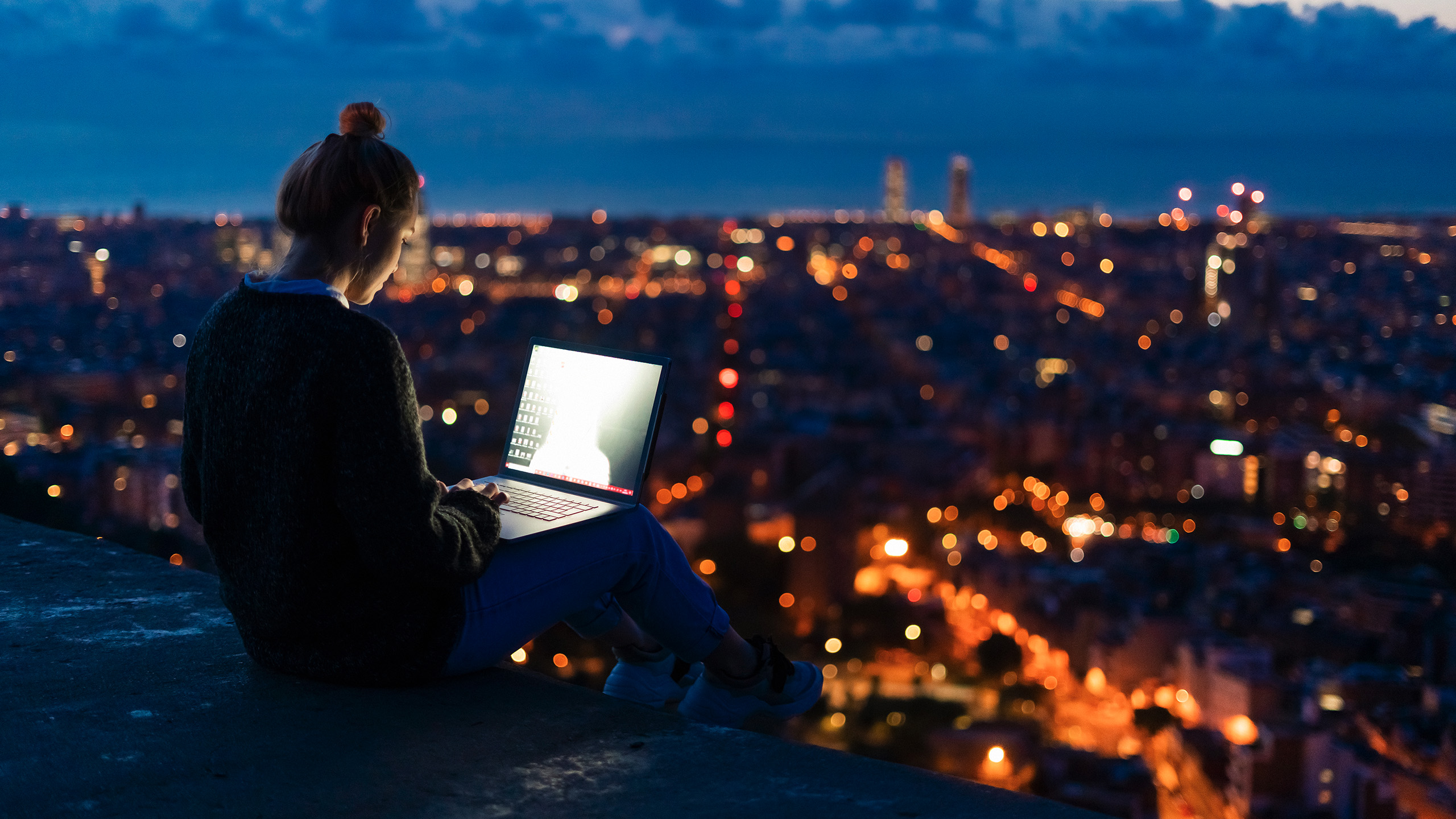 Nearshoring is rapidly becoming a top priority as forward-thinking businesses look to maximize value from distributed delivery.
We have perfected our delivery models through long-running experience and constant fine-tuning resulting in nearshore capabilities that provide high-quality services to meet modern business requirements. We invite you to embrace Siili Nearshoring.
Perception v.s the new reality
Nearshoring introduces new efficiencies through location agnostic services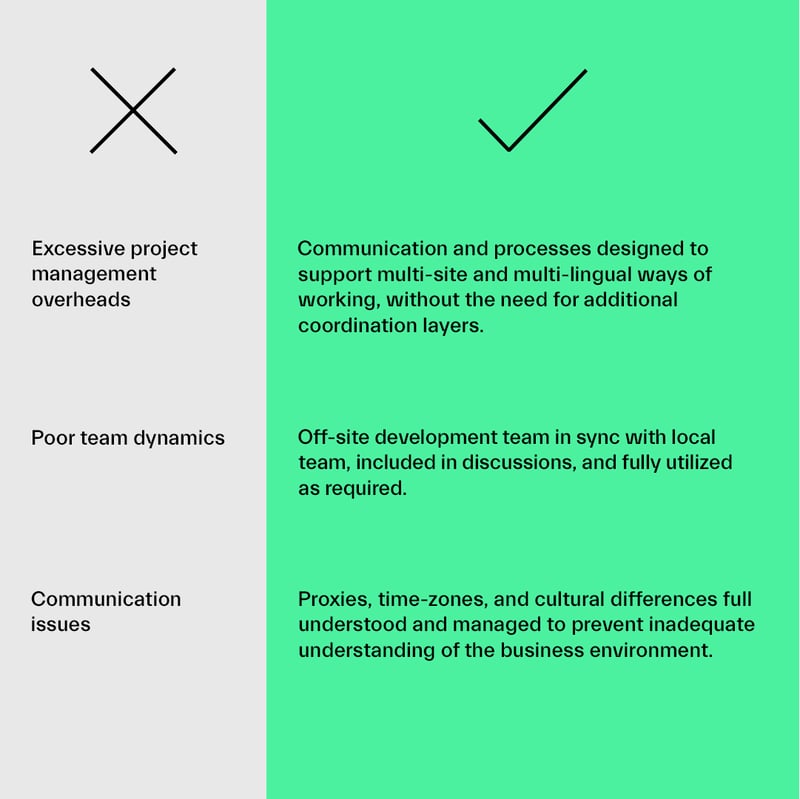 Location agnostic
Benefit from a network of Siili vertified experts across the world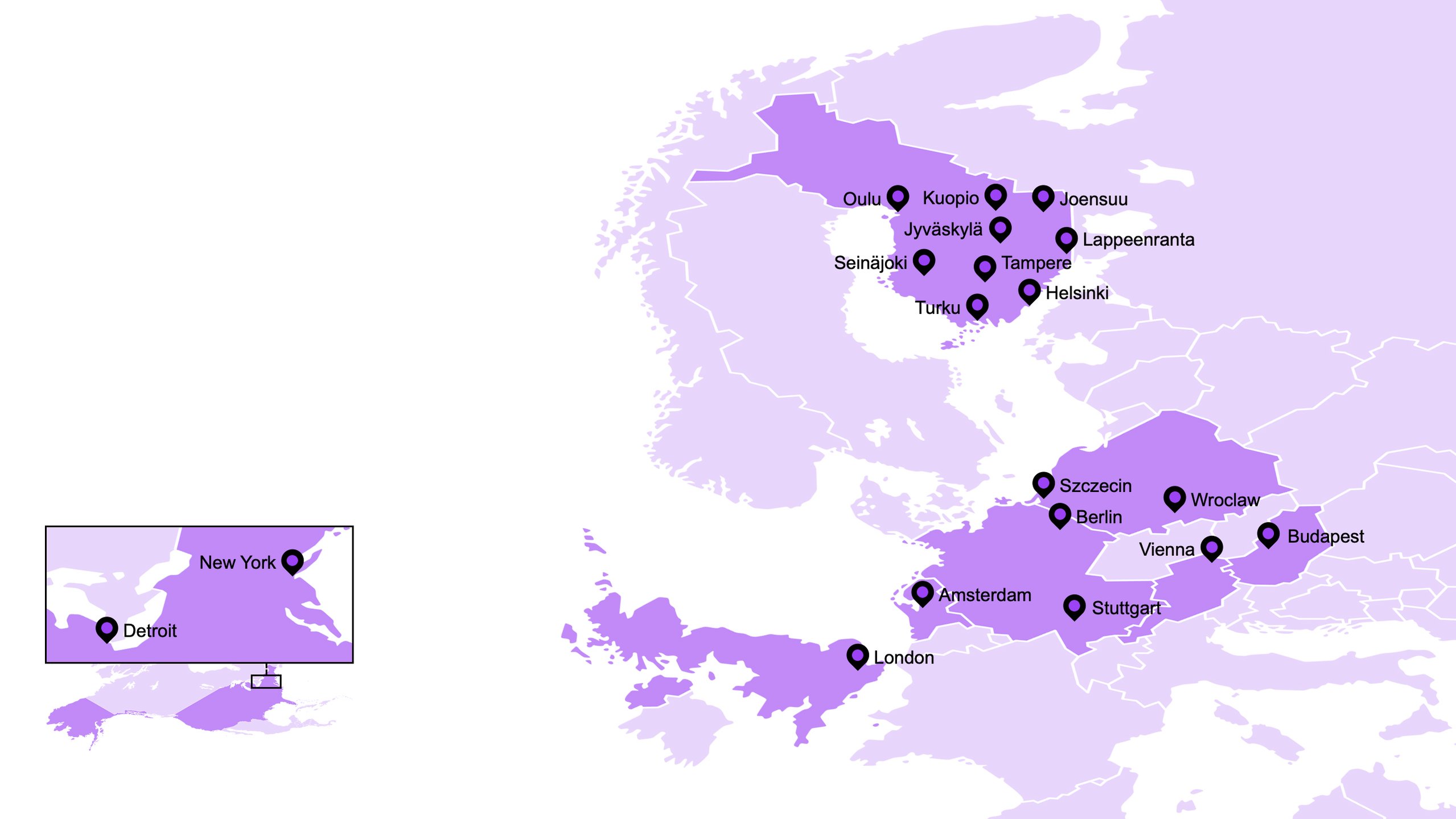 Siili Nearshoring Expertise
Over two decades of finetuning the service and perfecting the model
The right people for the job
Siili personnel are the best people for the job in terms of the value they offer. Nearshoring means competitive pricing and a commitment to using one team rather than subcontractors. This approach ensures that clients receive strategic offerings and focused areas of expertise, rather than simply a pool of resources.
Location agnostic
Siili's nearshoring services are available from Oulu to New York, with a focus on providing the right people, right locations, and tools to manage delivery. The team is location agnostic, ensuring intimacy and team dynamics at an equal level.
Language
Fluency in the desired working language has always been a legitimate concern with Nearshoring. Siili employ numerous nationalities and can always supply a native speaking Project Lead if so required.
Utilized by the leading brands
Technical tools for productivity are also an essential part of nearshoring , with Siili using smart tools and high-end technology to optimize delivery. Siili's nearshoring services have been utilized by clients such as Finavia, with each part of Siili working together to paint the big picture.
Invest in the best
However, it is important to note that Nearshoring does not represent a cost saving if not done correctly. Siili's commitment to quality and expertise ensures that clients receive the best possible service and value for their investment in nearshoring.
Distributed delivery
We offer the ability to rapidly scale up or down big teams using all delivery options and an network of over 5000 experts. By combining our Finland multi-location teams, Poland, Hungary, and EU partners, we can naturally provide cost savings.
Team setup
Tailored to your environment and culture
---
Personalized approach
We prioritize a personalized approach to building teams, ensuring that each customer is provided with a handpicked, motivated personnel tailored to their unique needs. Our people take personal responsibility for their work and have experience working in multi-site teams, ensuring efficient and effective collaboration.
---
Deep understanding
A proactive mindset and deep understanding of the business environment among our team members allows us to deliver high-quality results that meet our customers' specific requirements. To further ensure customer satisfaction, we offer coaching for effective collaboration with our distributed delivery teams.
---
Proven experience
Our approach stands out by combining motivation, experience, proactive mindset, and business understanding to exceed customer expectations, setting us apart from other organizations that prioritize industrialization and standardized approaches to team building.
Trust & transparency
Key to our success for distributed delivery teams​
---
Fundamental building blocks
When building a cross-site team, the same basic building blocks as a single-site team are necessary, but with more focus on trust, alignment, and cohesion. Achieving this requires transparency and a willingness to support team members.
---
Cohesion
To build trust and cohesion, the team should meet face to face at least once. This can have a significant impact on building inter-personal relationships that are needed for effective development.
---
A comfortable environment
A culture of psychological safety is essential for great performance. It creates an environment of trust and openness, where people feel comfortable taking risks and sharing ideas without fear of judgment or retaliation. We believe this is what sets us apart and allows us to optimize our nearshore team setup in the optimum manner.
Nearshoring Services
Optimum setup for your culture
---
01 Local Front – Mixed Development​
Local teams combined with a distributed development team
Provides easy access to nearshore deliveries organizations with little prior experience of distributed delivery
---
02 Best of breed international team​
High performing teams for multi-national organizations
Fully international team working in multi-location mode ​
Balanced optimization of skills and delivery locations​
English as the working language ​
Face-to-face gatherings to foster an engaged, connected team
---
03 Strategic Multi-vendor approach
Best individual talent for multi-vendor teams​
Finding the best talent for multi-vendor teams from Siili locations and network​
Individuals & teams working under customer supervision​
Finding specific talent and optimizing costs while providing the right skills for the task


Contact us
Make It Real with the help of our experts
Contact Us
Make It Real
Interested in the benefits of Nearshore delivery? Book a free assessment to see how it can improve the productivity of your software development and maintenance operations.

Organizational readiness, suitability of different delivery models, and best practices for implementation will all be covered.