This past week I attended the first ever Sitefinity Summit, an interactive 3-days event for both partners and users, taking place in downtown Boston.
What Sitefinity?
Sitefinity is one of the leading web content management systems with 2700 + customers and 15 000 + websites in 115 countries.
Siili is one of the biggest Sitefinity partner in Europe with our mutual history going way back to the earliest versions of the system. Together we've created many award-winning websites, developed numerous first-of-their kind features, and helped transform web experiences of big global companies with dozens of global and local websites.
Web Content Management trends for 2017
Having never been to a CMS conference before, I was curious to see whether it will be all about technical features combined with tips and tricks for system heavy users, but I was surprised to see a very strong business and marketing focus both in the keynotes, cases and among discussions with other attendants.
After getting back to the plane after 3 days and going through all my notes, I felt the underlying theme of the event, around which pretty much all the presentations revolved, was in one way or another the evolution towards user centricity. Below I'll break that theme down and list the main trends in web content management for 2017 and onwards in more detail.
EASIER THAN EVER
As the complexity (both on the client side and application side) and data needed for creating immersive experiences are growing faster than ever, the need for easiness and simplicity on the CMS side is apparent. The future CMS experience and UI has to be easier and simpler than ever – both for developer, content editor, end user and marketer. Especially in websites where lead generation and sales are the key you need to take complexity away, simplify the view for the marketer and make it super actionable.
MORE POWERFUL PERSONALIZATION
User journey optimization and personalization were probably the most covered topics of the event. Most companies seem still to be doing personalization mostly in their email marketing but new features and integrations make it very easy to mimic those nurturing campaigns in real time on the website, too*. All in all, there is a growing need to move from marketing personalization to journey personalization – which requires a much more extensive view of the customer. As a result, we are moving from segmentation driven to cognitive driven, real time targeting where machine learning and integrations to numerous data sources play a major role.
BEYOND MULTICHANNEL
The all-encompassing digital trends from conversational interfaces to voice command, virtual reality and IoT have their effect on content management systems as well. Especially the amount, forms, and complexity of data is growing at the exponential speed (amount of sensor and human behavior data has already exceeded more static business and customer data) and businesses need to address all of them for accurate personalization and analytics – also on "traditional" websites. This means there's apparent need for future CMS to have better capabilities to ingest, clean, learn and predict from all this data while making the view for marketer as simple as possible. As a result, "Cognitive-first" was one the key focus areas in Sitefinity application development roadmap, and they've been investing heavily in machine learning capabilities.
EXPERIENCE OPTIMIZATION
Finally, the more near-future, concrete improvements and development steps were mostly about optimizing the user journey. Out of the box A/B testing, support for Accelerated Mobile Pages, better social sharing capabilities alongside the much more intuitive and contextual CMS UI were the features we'll be seeing already in the next releases.
* In order to create this kind of immersive journey-driven personalization you need advanced technical capabilities, the bread and butter for our Sitefinity team.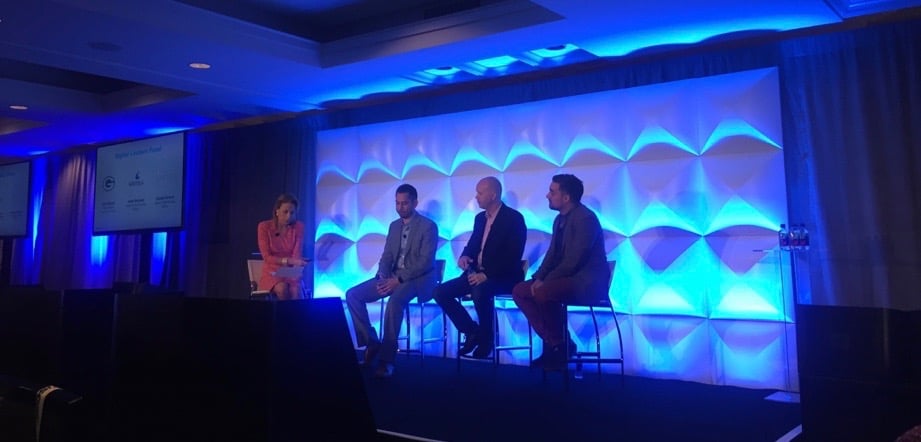 Customer panel with our customer Johan from Wärtsilä sharing their success story about lead generation and leveraging personalization for very big B2B deals (ballast water management systems as a case example)
Written by Emilia Vahvelainen